What is the Coin Booster?
The Coin Booster is an additional purchase offered after buying an eligible coin pack.
Buy an eligible pack and the Coin Booster to apply a multiplier to the purchase and get more coins.
To determine if a pack is eligible for a Coin Booster, look for a spinning wheel next to the pack's price as highlighted below: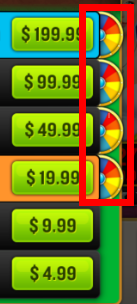 Only those packs with a spinning wheel to their right are eligible for the Coin Booster.
Eligible packs may regularly change.